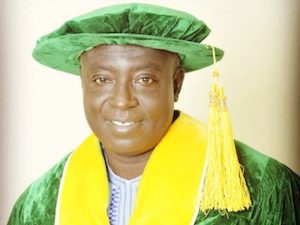 Professor Suleiman Bala Mohammed was born on the 5th March 1963 at Laminga, Nasarawa State, Nigeria. He is the 5th and current Vice-Chancellor of the Nasarawa State University, Nigeria. Until his appointment as the acting (2018) and then substantive Vice Chancellor (2019), he was in the service of the University of Abuja, Nigeria where he rose from the ranks to become a Professor of Sociology with specialization in Political Sociology and Development. He has over twenty-seven year's cognate experience in teaching, research and community service.
Under him, the University has been recording tremendous achievements since he assumed office. Notable among these are: Full accreditation of all the academic programmes by the National Universities Commission, the Establishment of the Institute of Molecular Diagnostic and infectious Disease in collaboration with the Frieburg Universitat in Germany and the World Health Organisation and the establishment of the Faculty of Engineering at the Gudi campus and the School of Medical Science.
He has also promoted the international linkage with Universities and Organizations abroad. The University presently has working agreements/linkages with some institutions and organizations in and outside the country. Some of these institutions are: Freiburg University, Germany, Dundee University, Scotland, Morgan State University, Baltimore in the States, University of Agriculture, Krakow, Poland, University of Economics, Katowice, Poland, Polonia University, Czestochowa, Poland, Islamic University, Uganda and etc. These agreements have led to exchange of staff and students between these Universities and the Nasarawa State University, Keffi, Nigeria.
A consummate researcher and thorough-bred academic, he has published over 50 scientific papers in international peer-reviewed journals and proceedings. Professor Mohammed has also attended and presented papers in many national and international conferences. He has served as editor, co-editor and consulting editor to many journals both national and international. He is a recipient of various awards and honours in his field. He has also graduated more than 70 graduate students.
Apart from his academic achievements, Professor Mohammed is an activist. He has been in the struggle for the development of tertiary education in Nigeria since his early career. He was at different times, the Chairman of the University of Abuja branch of the Academic Staff of Universities Union (ASUU), the Zonal Coordinator of the ASUU, Abuja, Convener, ASUU Committee on Ethics and Grievances and at different occasions led powerful delegations to many universities on behalf of the Union to resolve trade disputes between branches and the Managements of these different Universities. His involvement and knowledge of Union activities is responsible for the peaceful atmosphere between the Unions in the Campus and the University Management.