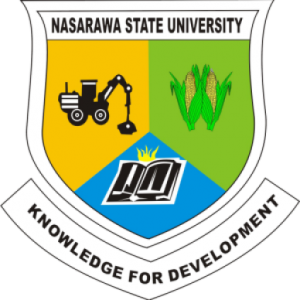 John Danladi Efuna (Principal Assistant Registrar/Head of Academic Affairs Division).
Qualifications: First School Leaving Certificate (FSLC) 1987, Senior School Certificate Examination (SSCE) 1993, Interim Joint Matriculation Board Examination (IJMB) 1994, Bachelor of Science (B.Sc. Hons.) Political Science 2002, Postgraduate Diploma in Education (PGDE) 2012, Master of Sciences (M.Sc.) Political Economy and Development Studies 2017.
Professional Body: A Member of Association of Nigerian University Professional Administrator (ANUPA).
Brief Profile
Vision
Mission
The Five Units
Functions
Brief Profile
The Academic Affairs Division was created in 2017 by the present Registrar of Nasarawa State University, Keffi, Bala I. Ahmed II when he took over in March, 2017.
The Division was hitherto operating as a Unit known as Academic Office. The upgrade of Academic Office to a Division was to strengthen the Registry and to provide an effective supervision and smooth administration in the Registry Department.
The Academic Affairs Division generally is the nerve and epic centre of the University. It is the entry and exit points of students.
Vision
Mission
The Five Units
Functions
| | | | | |
| --- | --- | --- | --- | --- |
| S/No | Name | Rank | Area of Specialization | Institutional E-mail |
| 1 | John Danladi Efuna | Principal Assistant Registrar (Head, Academic Affairs Division) | Administration | efunadjohn@nsuk.edu.ng johnefuna@gmail.com |
| 2 | Umar Shehu | Principal Assistant Registrar (Head, Exams & Records Unit) | Administration | umarshehu@nsuk.edu.ng |
| 3 | Auwalu Suleiman | Senior Assistant Registrar | Administration | suleimanauwalu@nsuk.ng |
| 4 | Hauwa Abubakar | Assistant Chief Executive Officer | Administration | hawama@nsuk.edu.ng |
| 5 | Felicia A. Egga | Assistant Registrar (Head, Transcript & Verification/Desk Officer, Administration, Agriculture and Law) | Administration | eggafelicia@nsuk.edu.ng |
| 6 | Hussaina Namadi | Administrative Officer I Head, Emailing of documents) | Administration | ------- |
| 7 | Hassana A. A. Musa | Principal Executive Officer I (Admin.) (Desk Officer, Arts, Social Sciences & Environmental Sciences) | Administration | hassanam@nsuk.edu.ng |
| 8 | Rukaiyat Suleiman | Senior Executive Officer (Desk Officer, Education & Natural & Applied Sciences) | Administration | rukaiyatsule@nsuk.ed.ng |
| 9 | Amos Haruna Sunday | Senior Executive Officer (Desk Officer, Sandwich & Part-Time) | Administration | sundaysmas511@gmail.com |
| 10 | Danjuma Mohammed | Higher Data Processing Officer (Academic Affairs Division) | Secretariat | danjumamoh@nsuk.edu.ng |
| 11 | Edward O. Kigbu | Computer Analyst II (Exams & Records) | Secretariat | edwardok@nsuk.edu.ng |
| 12 | Abdullahi S. Tahir | Chief Clerical Officer | Secretariat | tahirabdullahi@nsuk.edu.ng |