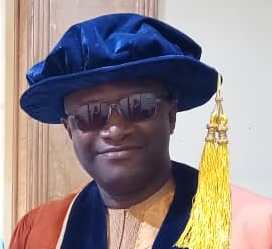 Dr. Nghargbu K'tso, a lecturer/researcher, is a   Nigerian Medical Geologist who graduated in 2014 with distinction from The Ahmadu Bello University, Zaria, Nigeria. His doctoral program was co-anchored by The University of Silesia in Poland, with Support from The Clinic of Balneology, College of Medicine, Nicholas Copernicus University in Torun, Poland. He is a recipient of many academic awards/grants, and in 2011 became a fellow of the Polish National Commission for UNESCO. Dr. Nghargbu is widely traveled and currently has to his credit one hundred and nine scholarly articles/artistic works. Currently, Dr. Nghargbu is the only African member on the Board of the International Environmental and Health Sciences Consortium (IEHSC). Apart from being the African and Middle East representative on the board of the International Society for Medical Hydrology and Climatology, he also chairs the Nigerian Chapter of The Polish Balneology and Physical Medicine Association and heads the Medical Geology Specialist Group in Nigeria. As of today, Dr. Nghargbu Heads the Linkages and International Cooperation at the Nasarawa State University in Keffi – Nigeria.
Who We Are
What We Do
Achievements of the Directorate
Who We Are
At the Directorate of Linkages we work towards capacity building for both the academic staff members and the students of Nasarawa State University through international partnerships. We work to facilitate academic research partnership between the units, the departments, the faculties and the research centres of Nasarawa State University with relevant bodies, including local and foreign universities, corporate bodies and donor organizations for mutual academic benefit. We work to facilitate students' exchange programs, staff visiting fellowships and sabbaticals. In our quest to internationalize our academic programs, we work with our partners in the areas of designing and developing curricula for our various degree programs. Ultimately, we are making learning and teaching experiences to our students and academic staff at Nasarawa State University, more adventurous and enjoyable.
What We Do
Achievements of the Directorate
Collaborations/Partnerships
In our quest to be one of the 21st century University, we have established collaborations/partnerships with both national and international institutions, industries, organizations and renowned scholars globally.
S/NO
INSTITUTION/INDUSTRY
STATUS
1
International Institute of Tropical Agriculture (IITA)
Signed
2
National Intelligence Agency (NIA)
Signed
3
Huawei Technologies Nigeria Limited
Signed
4
Nigeria Hydrological Services Agency (NIHSA)
Signed
5
National Emergency Management Agency (NEMA)
Signed
6
Economic and Financial Crimes Commission (EFCC)
Signed
7
Nigerian Communication Commission (NCC)
Signed
8
National Space Research and Development Agency (NARSDA)
Signed
9
National Environmental Standards and Regulations Enforcement Agency (NESREA)
Signed
10
Nigerian Geological Survey Agency (NGSA)
Signed
11
Nile University
Signed
12
Nigerian Meteorological Agency-NiMet
Signed
13
Nigeria Security and Civil Defence Corps (NSCDC)
Signed
14
National Veterinary Research Institute (NVRI)
Signed
15
University of Rwanda
Signed
16
Kazimierz Pulaski University of Technology (UTH PL)
Signed
17
College of Agriculture, Science and Technology, Lafia (COASTL)
Signed
18
Nigeria Incentive-Based Risk Sharing System for Agricultural Lending (NIRSAL)
Signed
19
Minning Cadastre Office Abuja (MCO)
Signed
20
Nigerian Army
In Progress
21
Islamic University of Uganda
In Progress
22
CISCO Academy
In Progress
23
Brunon Holyst (Donation of Three Books on Psychology to NSUK)
Signed
24
Erasmus+ Programme
1. University of Economics Katowice Poland
2. University of Serbia
Signed
Polish Government Scholarships
Polish Government Scholars from Nasarawa State University, Keffi (2011 - 2019)
| S/N | NAME | INSTITUTION & PROGRAM | YEAR |
| --- | --- | --- | --- |
| 1 | Joseph Gbubele | M.Sc Organic Chemistry, University of Wroclaw. | 2016/2017 |
| 2 | Maryam Dangana | M.Sc Medical Biotechnology | 2018/2019 |
| 3 | Kingsley Success Ikani | M.Sc Computer Science | 2018/2019 |
| 4 | Celestina Ojo | M.Sc Food Science & Nutrition, University of Krakow | 2018/2019 |
| 5 | Auta Mathew | M.Sc Medical Biotechnology, University of Silesia | 2019/2020 |
| 6 | Sabo Recee Asoloko | M.Sc Pharmaceutical Microbiology, Jagiellonian University | 2019/2020 |
| 7 | Nathaniel Ukah | M.Sc Industrial Chemistry, University of Silesia | 2019/2020 |
| 8 | Dare | M.Sc Computer Science | 2019/2020 |
| 9 | Joseph Gbubele | Ph.D Organic Chemistry, University of Wroclaw | 2019/2020 |
| | | FELLOWSHIP | |
| 10 | NghargbuK'tso | Poland National Commission for UNESCO, Medical Geology | 2011 |
| 11 | John Jonathan | Seabed Mapping, University of Szczecin | 2019 |
Members of the academic community have established relationships with different institutions across the globe through scholarships from either the government of Nigeria or of their host Institution's country.