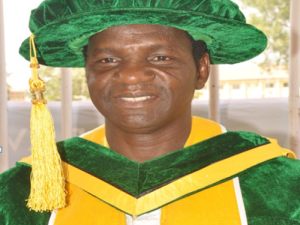 Bala Isyaka Ahmed II, the current Registrar of Nasarawa State University, Keffi was born on 1st February, 1962. He hails from Karu Local Government Area of Nasarawa State. He holds First School Leaving Certificate from L. E. A Primary School, Panda (1973), West African School Certificate (WASC), Government Technical College, Bida (1979), Interim Joint Matriculation Board Examination (IJMBE), School of Preliminary Studies (SPS), Keffi (1981) and Bachelor of Science (B. Sc) Sociology from Ahmadu Bello University, Zaria (1984). He graduated from Nasarawa State University, Keffi with Masters in Public Administration (MPA). He is currently a PhD student at Nasarawa State University, Keffi.
Bala I. Ahmed II worked as a journalist with the print media and rose to the position of the Editor of the Nation Newspaper from 1994 to 1996. He joined the Federal Polytechnic, Nasarawa in 1996 as Senior Assistant Registrar and Public Relation Officer. He was appointed Principal Assistant Registrar with Nasarawa State University in 2003 and served as Acting Registrar from 2004 to 2007. He was promoted Deputy Registrar in 2006 and became the third substantive Registrar of the University in 2017. He has served as Secretary and member of various Committees both statutory, standing and administrative committees in the University and Nasarawa State. He was the Chairman of the Committee on Strategies for Revenue Generation in Karu Local Government and member, High Powered Commission of Inquiry on Communal crisis in Jankwe Development Area.  He was also an Executive member of Nasarawa State Youth Council. He was honored with the prestigious award of Professional Administrator by the Association of Nigerian University Professional Administrators (ANUPA).
Bala I. Ahmed II attended both local and international conferences centered on educational management and university administration. Countries he visited include South Africa, Egypt, Uganda, Ethiopia, China, Finland, Turkey and Poland. He is a Fellow of three professional bodies to include Institute of Corporate Administration of Nigeria, Certified Institute of Management, Nigeria, Institute of Security Management and Operations, Nigeria and Member, Nigerian Institute of Management. His hobbies include reading, traveling and playing table tennis. He is married with children.